Ira Kaufman's 10 Takeaways From Bucs-Giants
November 3rd, 2020
BY IRA KAUFMAN
We're on to New Orleans.
That should have been the mantra for Bruce Arians after Monday night's forgettable performance at the Meadowlands.
The only positive the Bucs can take out of that slop is they managed to walk out with a win on the road, remaining atop the NFC South. They played better in the second half — in large part because the opening 30 minutes were absolutely unacceptable.
It's not a stretch to suggest some of Tampa Bay's minds were already on the Saints, despite all the pleadings from the coaching staff to take the Giants seriously. Those pleas fell on deaf ear holes as New York rolled up 15 first downs in the first half.
The Giants were well prepared for Todd Bowles and his exotic blitzes and a slapdash offensive line opened up big holes for Wayne Gallman and Alfred Morris, two journeymen who will never be confused with Derrick Henry.
"They hit us in the mouth in the first half," acknowledged Lavonte David.
The Bucs looked wobbly, but they never went down. Perhaps a better opponent would have put them away, but the Giants are 1-7 for a reason. Tom Brady likes to say that if you're not on your game, you're in trouble against any NFL team.
The difference is this Buc team has the talent and fortitude to overcome a lethargic effort. The Bucs will have to play a better game against the Saints Sunday night — and they will.
Here's how the Bucs forged their first 6-2 getaway since the 2002 championship season:
* Brady completed 70 percent of his pass attempts, but he wasn't particularly sharp, especially in the opening half. Coming off a brilliant game in Las Vegas, he misfired on some easy throws to his backs and appeared jittery at times. Still, when it counted, he got the job done.
* The Buc fans I sat with at the Big Storm Brewing Co. taproom in Clearwater couldn't believe how Tampa Bay was pushed around at the start. Those of you watching at home had to be similarly stunned as the NFL's No. 1 rushing defense showed little of its trademark physicality. On the other side, Daniel Jones had too much time to consider his options until Bowles made critical second-half adjustments.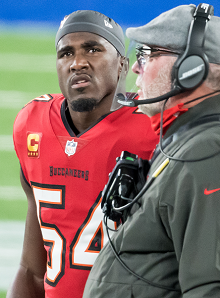 * It was a mixed bag for the secondary. Carlton Davis played a strong game, posting his fourth pick of the season and coming close to grabbing a few more. Antoine Winfield Jr. came up with the big 2-point stop at the end with a well-timed breakup, but Jamel Dean won't like the tape. Dean tied for the team lead with seven tackles, but he was shaky in coverage. Only some inaccurate downfield throws by Jones saved Dean from a brutal evening.
* Ryan Succop makes his kicks. That is all.
* Ndamukong Suh struggled a bit against the run, but he provided some big-time pressure up the middle with a sack and five of Tampa Bay's 10 quarterback hits. By the end of the night, Jones was feeling No. 93 on every drop back.
* Ronald Jones has worked hard to improve as a receiver out of the backfield. Keep working, RJ … you ain't there.
* On some key downs, Jones was allowed to escape the pocket and showcase his mobility. That's not supposed to happen and it almost cost the Bucs a game. Let Jones try and beat you from the pocket, let Drew Brees try and scramble. That's defense 101.
* Give the Giants their due. They are playing hard for Joe Judge, while still learning how to close out games. Despite the wide disparity in talent, New York was one completion away from forcing overtime.
* Chris Godwin was sorely missed as a prime-time target. His precise route running and strong hands make him a dependable option, particularly on third down, where the Bucs were only 4-for-12.
* The Bucs are in strong shape at the halfway mark. They pace the NFC in point differential at plus-82 and five of their final eight games are at home, where they are 3-0. If Tampa Bay can cover those swing passes to Alvin Kamara, not an easy task, the Bucs should take charge of a division they haven't won since Devin White was in grade school.