Inconsistent Offense Is Highly Encouraging
November 20th, 2020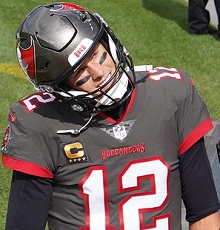 One of the most cerebral and astute analysts in the game, a man with three Super Bowl rings, considers the Bucs a fascinating team that is underachieving.
That was the word this week from Ed McCaffrey, who had a hell of a career as a wide receiver and is the dad of Panthers running back Christian McCaffrey.
The elder McCaffrey breaks down all things NFL on SiriusXM NFL Radio like the Stanford man he is. He explained that the Bucs have been extraordinarily up and down, and McCaffrey said he saw a Tom Brady last Sunday that missed three touchdown passes, despite posting 46 points on the road against an average Panthers defense.
The McCaffrey message is that the inconsistency of the Bucs offense is encouraging. Why? Because they've shown they're capable of being the highest scoring team in the NFL, and that their offensive issues all season have been caused by their own mistakes rather than defenses consistently locking them down.
"Self-inflicted wounds," McCaffrey said, are a good sign in the Bucs' case. "There a team that is winning while still attempting to find out how good they could be."
Joe likes this healthy and optimistic view of the Bucs offense. Essentially, McCaffrey said the Bucs offense — and defense — are so damn talented that only they can stop themselves.
As for Antonio Brown, McCaffrey said the Bucs were still figuring a lot out offensively before Brown arrived, so he views Brown as just another talented piece to work in.
McCaffrey believes Brown is worth the risk because he can still win 1-on-1 matchups and that kind of play helps win games. Also, he said the Bucs are talented without Brown and if they have to cut him, then so be it.