In-House Competition
November 19th, 2020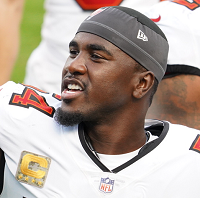 General manager Jason Licht did Lavonte David quite a favor, twice actually.
Buccaneers inside linebackers coach Mike Caldwell was chatting this week and talking about how David is a steady and stunning machine, even in his ninth NFL season.
"You see it week and week out. It's like is this guy ever going to slow down? It's not happening," Caldwell said.
And then Caldwell explained that some of David's fire comes from his running battle with the guy alongside him: Devin White.
"He's out there and he's flying around making his plays. I think bringing Devin [White] in was good for him," Caldwell said. "It's one thing to compete against another the team, but to compete against each other, that really just raises both of their levels. They feed off each other. They go out there and they love playing together."
Later during his Bucs Total Access interview, Caldwell stressed that White and David compete in "Rock, Paper, Scissors," emphasizing that they're always driving each other. That reminded Joe of the training camp video of the two racing on the fields of One Buc Palace.
Yes, Licht hooked up David with a fiery personality and elite athlete to push him in last year's draft. White's arrival came on the heels of a Kwon Alexander being a similar force for David from 2015 through 2018. Alexander, of course, was more of a surprise as a fourth-round pick, but he still served as a guy whose energy and fire David could feed off every waking hour.
Joe hopes David and White can push themselves to a new level on Monday night against the Rams. They haven't been playing their best football the past three weeks.