Five Things
November 16th, 2020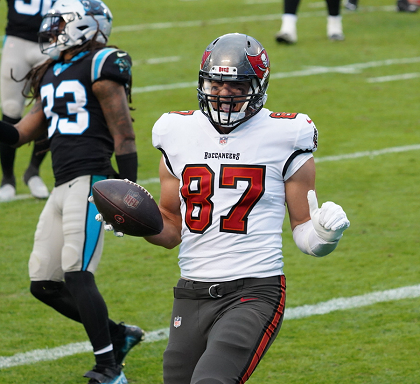 What a wonderful Victory Monday. After a godawful week that started with one of the worst Bucs games in history, and then you throw in a dreary tropical storm and a nasty cleanup, man, did the clouds part and the sun blanket Tampa Bay yesterday? Grab your coffee and let's hit it!
What a little nudging will do.
So last week after that pitiful Saints game, Bucs coach Bucco Bruce Arians took to his day-after presser forum and professed confusion about why star receiver Mike Evans was not targeted more.
Of course, Arians did not mention park-violating, home-invading, NFLPA-ignoring, down-forgetting, jet ski-losing Bucs quarterback Tom Brady by name. He didn't have to.
Well, message sent. And received.
Yesterday, Brady targeted Evans 11 times. Those two may need extra work as Brady, missed Evans twice for touchdowns by overthrowing him. But still, is it a coincidence that Evans was targeted so often and the Bucs had their highest scoring output of the season?
With Evans getting targeted and furniture-tossing Antonio Brown getting more comfortable in the offense, you cannot tell Joe that didn't help free up foot-rubbing, car-littering Rob Gronkowski and Chris Godwin.
(By the way, Godwin made one of the sickest catches of his career yesterday. After making his break near the right sideline, Godwin had to immediately adjust to a Brady fastball between two defenders. Godwin had maybe a split second to adjust and he came down with the ball. Damn, Godwin is going to become a very wealthy young man in free agency in a couple of months.)
When Evans is fully involved, this Bucs team is highly dangerous for all defenses.
Bounceback Brady.
So entering the game, Brady was 7-1 in his career in games after the Belicheats lost by 20 or more. As you can tell from those numbers, that happened once every third season or so. In other words, not much.
Make that 8-1. And yeah, Brady was hot as a firecracker, throwing for 341 yards and connecting on 29-of-38 passes. And Joe noticed Brady was moving around more than usual in the pocket.
Joe heard various highlight shows claiming Brady had so much time to throw. If that was the case, why was he bouncing around so much? Brady was sacked once and hit seven times. That doesn't sound fantastic to Joe, but it sure was good enough.
This just demonstrated what Joe has been saying since training camp, that Brady is more mobile than what he showed in New England.
Props to Arians.
Major props to Arians and his staff. After the Saints Seal-Clubbing, Joe was very curious to see how they would pick themselves off the deck and rebound – at least as much as the players.
Well, Arians gets an A+. Good for Arians not being remotely satisfied with how the offensive line didn't protect Brady last week, specifically the left side of the line.
Joe fully expected left tackle Donovan Smith to have a strong game. Whenever he drops a turd like he did against the Saints, Smith rebounds with solid games. That trend continued.
But well done on Arians for experimenting (?) with moving center Ryan Jensen to left guard to fill the void left by Ali Marpet still being in concussion protocol, and having A.Q. Shipley play center, benching Joe Haeg.
(Joe hopes now people know why hollering for Haeg to replace Smith for good at left tackle is not a wise option if you plan to make it to the playoffs.)
The Jensen/Shipley move worked wonders. Brady may not have had the best protection, but it was certainly good enough. Good job Bucs coaches: one for Arians benching Haeg and for getting Shipley and Jensen ready to rock.
Finally, RoJo.
Joe was hollering enough yesterday that the neighbors probably thought Joe sucked down his last Big Storm Brewing beer without stocking up before kickoff. When RoJo broke free to score the second-longest touchdown run in NFL history and set a Bucs record for longest offensive play from scrimmage, Joe was jumping up and down like draft night when Joe thought the Bucs were going to draft Cee Dee Lamb.
All Joe ever wanted for RoJo was to house a run very similar to what Leonard Fournette did against the Stinking Panthers in the first meeting of the season.
Joe is happy that RoJo, after previously looking like a full-blown bust of a running back, has become one of the better backs in the NFL. Still, RoJo was missing that signature run, that run to the house.
Boy, did he ever have one yesterday.
When RoJo produces, how can defenses stop this team unless the pass blocking suddenly goes to hell? You have to cover all of these weapons in the passing game and then try to hold back RoJo?
Keep it up, RoJo. Joe's happy that you turned your career around from nothing to maybe a Pro Bowl (well, at least named to one — no Pro Bowl this year).
What a steal.
No, Joe isn't forgetting about the defense. What a game Jason Pierre-Paul had yesterday? A pick and a sack and two quarterback hits and a tackle for a loss. That's a full day.
JPP is a hustler. Given his Instagram rant about the plane fiasco on Saturday, Joe wouldn't have been surprised if JPP read the riot act to his teammates that they dare not use the plane trip from hell resulting in no team meetings Saturday as an excuse not to be ready to play.
JPP has been the best thing to happen to this team in a long while. The guy is always busting tail. He always produces. He now has 7.5 sacks this season and in 36 games with the Bucs, JPP has 28.5 sacks. That's pretty stinking good, especially since he cost Bucs AC/DC-loving general manager Jason Licht only a third-round pick.
That's value.
Last Bucs thought.
Is kicker Ryan Succop, an expected free agent in 2021, a guy the Bucs need to place the highest priority on to retain this offseason? Remember, the Bucs kicking game had been a total joke for years until the Bucs signed Succop. Do Bucs fans really want to return to that circus?
TV analysis ranting.
There is an epidemic of stupidity in football broadcasts and Joe is guessing network producers (who are to football broadcasts what editors are to publications) either don't give a crap or have a sneering disdain for their viewers/customers.
Yesterday, FOX Sports' Moose Johnston had two of the dumbest comments Joe has heard in a while. First was when Mike Evans was grabbed in the end zone early in the game by Stinking Panthers corner Rasul Douglas. No flag. Evans couldn't believe it. Neither could Joe.
Johnston crowed about the no-call and how it was good because Douglas was "holding his position." WTH? You can't just make up rules on the fly, Johnston! The only thing Douglas is allowed to hold is his unit. Where is it in the NFL rule book that a corner can wrap his arms around a receiver in the end zone while a pass is in midair headed his way — eight yards past the line of scrimmage?
Douglas grabbed Evans like he was his prom date in the back seat of her daddy's Mustang. And Johnston thought this was good?
Johnston also kept repeating the tired narrative that Brady and the Bucs offense need time to gel because Brady is new. Hello, this is Week 10 and Brady's been in the league 20 years!
Besides, how does Johnston explain rookie quarterbacks Justin Herbert and Joe Burrow doing so well? Is Johnston trying to say Herbert and Burrow had the same coaches and teammates in college as they do in the NFL?
To reinforce his point that Brady needs more time, Johnston tried to say last year Aaron Rodgers struggled all season with a new coaching staff in Green Bay. The Packers won 13 friggin' games! Rodgers threw for 4,000 yards! All quarterbacks should struggle this badly.
And to wrap up about the sickness of stupidity of football broadcasts in the 21st century, is there a higher being that can order sideline reporters and game analysts to stop with the "limit turnovers" and "establish the run" nonsense as keys to a game? Is there an employed coach in America that wants turnovers?
(Saturday night was peak stupidity. For some reason ABC had Holly Rowe give her keys to the game while play was the Wisconsin-Michigan game was in progress. As Rowe offered that Michigan coach Jim Harbaugh wants to limit turnovers, over her shoulder in the background you could see Michigan quarterback Joe Milton throwing a pick. You cannot make this up! Then after halftime, Rowe told the world that she spoke to Harbaugh during the break and he wanted the Wolverines to cut down on turnovers in the second half. Who knew?)
— Tom Brady (@TomBrady) November 16, 2020