Chris Godwin Names Three Things He Can't Figure Out
November 30th, 2020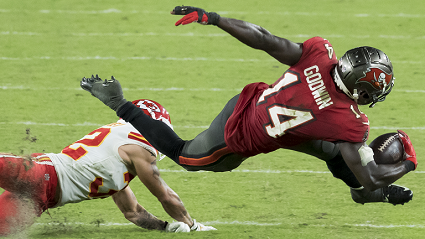 Chris Godwin is playing with only one healthy hand, but his mind is firing at full capacity and yet he struggled for a few answers tonight.
The Bucs' most recent Pro Bowl receiver was on WDAE Radio and could not wrap his head around what's going wrong with the sputtering Bucs offense, especially early in games.
"It really just seems like for whatever reason we're starting off slower," Godwin said.
"We're not putting together drives," Godwin added, noting that one first down on the Bucs' first four drives yesterday was crushing and unacceptable..
Another thing Godwin said he can't figure out is how the Saints defense managed multiple times to double team Mike Evans, Rob Gronkowski and himself at the same time.
As for that bad hand, Godwin said he's powering through his busted and healing finger out of a sheer will to play the game he loves.
He's got a lot of pins the surgically-repaired digit, Godwin said, and sometimes the reality of playing with 1 1/2 hands hits him.
"There are definitely days where I'm like, wow, this is really broken," Godwin said. With a laugh, Godwin added how proud he is of himself for blocking big defenders at the point of a attack with basically just one working hand. Godwin said he doesn't understand how he's been successful doing that but he'll take it.
As for the slow starts, Joe can only do a head shake and hope this giant Bucs coaching staff and Tom Brady can figure it out. That was not a special Chiefs defense the Bucs faced yesterday.