CBS: Prepare For Super Bowl
November 5th, 2020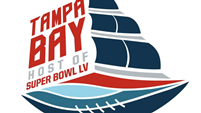 The Tiffany Network has spoken.
CBS Sports has seven NFL types working for its website. And if you are a Bucs fan (and if you aren't, why are you reading?), you will love to know what all seven predict for the Bucs.
The first time the Bucs ever went 6-2, the Bucs made it to the NFC title game before losing to the Rams in 1979. The second time Tampa Bay started out 6-2 the Bucs won the Super Bowl.
Last week's win over the Giants was the third time. And all seven CBS Sports NFL beat writers are convinced the Bucs advance to the playoffs this year. In doing a series of mid-season predictions, the Bucs are a unanimous choice to make the playoffs and end a 13-year drought.
But wait, there's more!
Four of the seven NFL sophists are of the mind the Bucs make it to the Super Bowl. That's over half of the experts.
Further, heavy metal headbanging Jason La Canfora and John Breech have the Bucs winning it all, hoisting the Vince Lombardi Trophy in victory at the Den of Depression.
So you can rest easily tonight, Bucs fans. Even if the Bucs get tripped up against the Saints, the Bucs will make the playoffs.
At least.