Bucs Center Explains The Aaron Donald Experience
November 19th, 2020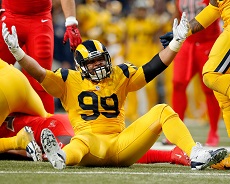 Up next for the Bucs is the best defense in the NFC, featuring a living legend at defensive tackle.
Five-time All-Pro Aaron Donald is having another monster season, striking fear into offensive coordinators and the guys lining up across from him.
Bucs 34-year-old center A.Q. Shipley, who made his first Tampa Bay start on Sunday, squared off against Donald twice a year as the Cardinals' starting center, including in 2019.
Shipley explained why Donald has no peer.
"He plays at a different speed. I mean, when it's all said and done you're going to look back and says this guy was the best D-lineman to ever play the game," Shipley said. "Right? He's super athletic; you guys see it. There are games, if you don't stop him early and he stops feeling himself, it can become a nightmare real quick. … He's an absolute game-wrecker. He's one of the few guys that plays that position almost like he's a defensive end; he can kind of keep his feet and his hands moving at the same time, whereas a lot of these bigger guys, once they make their initial move they stop their feet. He keeps it rolling the whole time."
Shipley's comments came on The Pat McAfee Show on SiriusXM Mad Dog Radio.
Yes, Joe's fingers and toes are crossed that Ali Marpet exits the concussion protocol and returns to start at left guard with very fresh legs.