Bruce Arians Takes RoJo Off The Fumble Hook; Says Run Blocking Was Weak
November 4th, 2020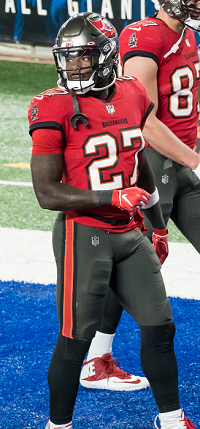 A lot of fans watching Monday night thought Ronald Jones was benched for fumbling with five minutes remaining the first quarter, which led to the Giants' first touchdown.
Listening to Bucco Bruce Arians speaking last night, you wouldn't think that was the case at all.
"That fumble really wasn't [RoJo's] fault," Arians told Bucs Total Access. "The ball was tipped, he caught it, he tried to get up and make a play and the guy hit him. So I didn't blame him for that."
RoJo next touched the ball after halftime, so Joe will let readers decided whether RoJo was given a break to think about his poor ball security where he needed it most.
Arians went on to praise Leonard Fournette's for versatility and attributed that to much of his increased workload against the Giants. But it seems there is no battle for top-dot status yet.
"RoJo is still our guy. We're going to lean on him in the running game. And he's been running great,"Arians said.
As for the run blocking seen in New Jersey, Arians didn't hold back.
"This was one of our poorer games. I didn't think we were as physical as we needed to be," Arians said of the O-line work in the run game. "The Giants do have a nice front. But again, we had some runs. We hit some explosive runs; our winning percentage in the running game wasn't high enough."