Bruce Arians Says Bucs Are "A Really Tired Team," Details Schedule Change
November 18th, 2020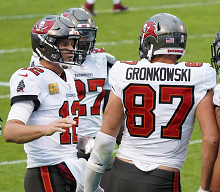 Joe's glad the Bucs are exhausted. They should be. That's what happens when you're 7-3 after a road-heavy schedule without a bye week.
Joe would be worried if the team was daisy-fresh.
Bucco Bruce Arians was candid about the collective state of his roster yesterday and explained he's adjusted to create a "mini-bye" for the players.
"I gave the guys off until Thursday; we're a really tired team," Arians told Bucs Total Access. "We haven't had a bye yet. So this is kind of a little bit of a mini-bye for us. And then Friday and Saturday night, we'll practice at night, the same time as the game. Do a couple of different things on Monday morning to try and shake it up and see if we can start the game better."
Joe loves that Arians is willing to shake things up, call audibles. Many old school coaches wouldn't consider this kind of stuff.
Will the added rest and radical schedule shift work? Will the Bucs shake their night-game malaise? That's unclear. But if it doesn't work, at least the players won't be able to blame coaches. And there's great value in that going forward.