An Earned Spotlight
November 14th, 2020
BY IRA KAUFMAN
Redemption is a beautiful thing, and it can't come soon enough for some Buccaneers.
While it's a tough task to single out anyone who fared well against the Saints, one player stands out below the rest.
His name is Donovan Smith — and his name is mud across Buc Nation for the moment.
Smith just turned in one of his worst efforts in a Tampa Bay uniform since he being selected out of Penn State with the 34th overall pick of the 2015 draft. Now he embraces a golden opportunity for redemption, the act of atoning for a fault or a mistake, when the Bucs head up to Charlotte as favorites to sweep the Panthers.
How poorly did Smith play Sunday evening? Let us count the ways.
Trey Hendrickson, who has emerged as a dynamic pass rusher off the right side, bullied No. 76 from start to finish. He got in Smith's grill as a pit stop, then proceeded to feast on Tom Brady's carcass.
When Hendrickson wasn't running around Smith, he was running through him. It didn't help that Smith had a new partner off his right shoulder as Joe Haeg tried to fill in for Ali Marpet.
Even Bruce Arians had to acknowledge that the left side of the offensive line took a beating against the Saints.
Durability has been Smith's strong suit as a pro, missing only one game in six seasons. In contrast, consistency remains the consistent issue.
He plays well … until he doesn't. The hiccups are enough to make Arians gag. Smith speaks often about the pride factor driving the men up front.
For the most part, Brady has been protected well, but fault lines are beginning to show.
"I feel like with football – anywhere, all the way down to pee-wee and all the way up to the professional level – you're only going to go as far as your offensive line," Smith says. "We've got five guys out there and we've got to work as a unit."
Showcase Opportunity
On Friday, Arians suggested playing next to a different left guard contributed to Smith's doldrums against New Orleans. Marpet is expected to return Sunday against a Carolina defense that has registered only nine sacks in nine games.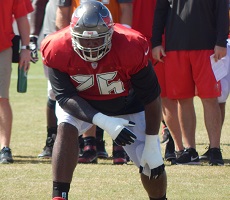 Right defensive end Stephen Weatherly is still looking for his initial sack of 2020 while Yetur Gross-Matos has been credited with one takedown as a second-round rookie out of Penn State.
Carolina's best pass rusher, former FSU standout Brian Burns, is nursing a groin injury, so this looks like a tasty showcase for Brady's bodyguards to shine.
Smith's future in Tampa likely rests on how the rest of this season plays out. He has been flagged eight times this year, second in the league to Bears defensive tackle Akiem Hicks. His buddies up front — Marpet, Ryan Jensen, Alex Cappa and rookie Tristen Wirfs – have combined for only 10 penalties.
With five holding calls and three false starts, Smith has hampered Tampa Bay's efforts to establish an offensive rhythm. At the same time, Marpet hasn't prompted a single flag.
"We're going to continue to keep building, grow and keep doing what we've been doing," Smith said earlier this month. "The thing we talk about is consistency. If we can consistently do that for the rest of the season, I don't see why not. That's the plan. I feel like it's all up to us."
When the 2020 season concludes, it's up to the Buc braintrust to determine whether Smith is still the guy to shield Brady's blind side. His $14.25 million salary is not guaranteed for next season, so the Bucs could walk away, perhaps shifting Wirfs to the left side in Year 2.
There were plenty of other culprits Sunday. Jamel Dean was lost in coverage and Brady wasn't particularly sharp. Shaq Barrett and Jason Pierre-Paul didn't show up until the Bucs were down 31-0 at the half.
But it is Smith who has earned the spotlight in Charlotte. If Smith struggles once again, line coach Joe Gilbert will have much to consider before Aaron Donald and friends stride into town for a prime-time matchup.
---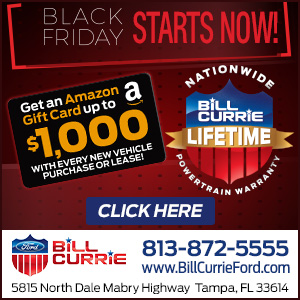 ---