Ali Marpet Returns To Practice
November 11th, 2020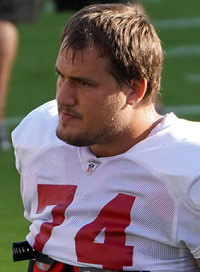 Encouraging news on the official Buccaneers injury report, the first of this week leading up to Sunday's Panthers-Bucs game.
Starting left guard Ali Marpet participated in "limited" capacity. He's still listed on the report with a "concussion" but returning to practice is a positive step in the league's protocol to return players after a documented traumatic brain injury, aka "concussion."
No Buccaneers players skipped practice today because of injury. Several got the limited designation and Rob Gronkowski sat out practice but his non-participation was listed as not injury related.
Yes, the Bucs are rather healthy. That's a great thing in Week 10 with a bye week still on the horizon.
Now go out and beat a weak three-win Panthers team so fans can feel all those postseason vibes again.