188 And Counting
November 7th, 2020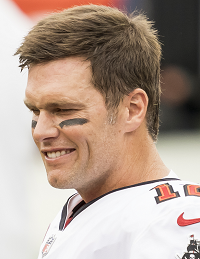 File this under things you wouldn't read during the Jameis Winston era.
So how many pass attempts has it been since Tom Brady threw an interception? The answer is 188, per Joe's count. The last Brady pick came in the first quarter against the Chargers on Oct. 4.
That was a pick-6 intended for Justin Watson, a sideline route that was returned 78 yards. (Fun fact: Watson hasn't been targeted since that game, per Pro Football Reference.)
It's a stunning streak for Brady, who once held the NFL record with 358 straight pass attempts without a pick before it was broken by Aaron Rodgers in 2018.
Man, Joe wouldn't want to be the next Bucs pass catcher who has a screw up that leads to a pick, at least not before Brady screws up on his own.
---
It's an all-new TAMPA TWO, featuring Sage JoeBucsFan.com columnist Ira Kaufman and Derrick Brooks, who needs no introduction.
Brooks and The Sage dive into all things Bucs-Saints. The fun is presented by The Identity Tampa Bay and Joe.