"The Reality Is We Haven't Had A Lot Of Time Together"
October 16th, 2020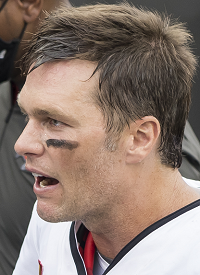 Joe asked Tom Brady a simple question yesterday and the Bucs' legendary quarterback went in a few different directions.
Joe's not sure why, but Brady likes to remind fans (when players talk to media they're really talking to fans) that the Bucs remain in a massive learning mode while still needing to win games.
No, Joe certainly didn't ask Brady about a learning curve, as every NFL team had a shortened offseason with no preseason games or scrimmages against other teams. Plus, multiples teams with new QBs and/or coaches are performing well.
JoeBucsFan.com: Through your career, have you been able to tell when your team comes out of a tough loss with the right mentality and approach? And do you feel the Bucs have done that this past week?

Tom Brady: I think guys are, you know, we're working hard, we're trying to make improvements. And like I said a few weeks ago, even when you win, you know, you're trying to learn and trying to get better, trying to improve. Understanding that this process, you know, we're going to be working that way through the whole season. We just have, there's (pause) the reality is we haven't had a lot of time together. So we're just trying to make up for it. And every game is valuable for us, and every practice is valuable and every walk-through. So I think everyone is getting more comfortable and confident as the weeks ago, but at the same time we've got to win these games because these all count the same as the ones later in the year. You know, we obviously lost the first game of the year, we won three straight, you know, we were in a close game [in Chicago] and we gotta make the plays to win the close games. And this game [Sunday] is hugely important because it's against a very good football team, we're playing at home. We're going to have to play a great game. And in order to do that, every guy has to know what they're doing. They have to do it decisively and we have to play great team football.
Joe listens to Brady and believes Brady's standard is so high and he's coming from such a highly functioning machine in New England, that Brady acutely realizes just how much the Bucs must improve.
Brady seems very confident that time will heal whatever is preventing the Bucs offense from playing a full game of sound football.
Joe sure hopes Brady is correct — and that the defense can step up enough to cover for the offense.