"That's Where His Growth Has Come"
October 20th, 2020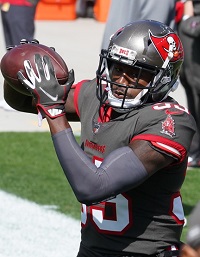 Cornerback Jamel Dean entered the 2019 NFL Draft with first-round speed and raw talent.
The questions surrounding him were much more about durability and production.
So far, after a rough early-rookie baptism that followed injuries, and the break he caught against Arizona, Dean has been all about production. He's broken up a mind-blowing 23 passes and snagging three interceptions in his last 13 games — and he doesn't even play full-time like Sean Murphy-Bunting and Carlton Davis do.
He had the game-shifting pick-6 against the Packers on Sunday, and Dean has made his mark inside One Buc Palace with his work ethic.
Bucco Bruce Arians laid that out on WFLA-TV yesterday.
"He's got all that talent. You know, he's here every morning watching film with Todd Bowles. And I think that's where his growth has come," Arians said of Dean. "He's understanding the game better, but I mean, guys that show up at 5 o'clock, 5:30 in the morning and want to meet with coaches, that's a really good sign."
Just stay healthy, Dean, and keep working. And Joe will say it again: Stay healthy.