"That's My Job"
October 5th, 2020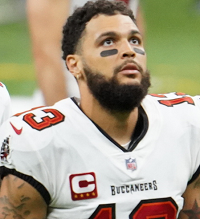 Joe wants Bucs fans to remember what Mike Evans accomplished yesterday, and it's not about Evans catching his fifth touchdown pass of the young season.
Entering the Bucs-Chargers game nursing a not-yet-100-percent hamstring, Evans left the field in the first quarter hobbling after TV cameras caught him in pain on the sidelines.
But Evans reappeared from the bowels of the stadium and, still visibly wounded, turned in a 7-catch, 122-yard performance on eight targets. This time it wasn't the hamstring, it was a fresh ankle injury.
"That's my job," Evans said of playing through the pain. "I get paid to play football and if I'm eligible to be out there, then I'm going to be out there. My team needed me. [I] went to the back, the trainer taped me up, my boy Bobby, and got me right. Came back out. Played."
The quotes were nice, but it was more about the way Evans said them. It was like he was saying without fanfare that he'll play under any circumstances and put his body on the line at all times. Joe will dare say that mentality over the years has rubbed off on Chris Godwin and Scotty Miller.
For Joe, Evans truly is on a Hall of Fame career track and Sunday's win was one of those games that should cement Evans as an all-time great, whether he ends up in the Hall one day or not.
Will Evans be well enough to play Thursday? Joe wouldn't bet a nickel against it happening.