Kurt Warner Explains Tom Brady Problems
October 12th, 2020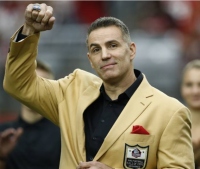 Hall of Fame quarterback Kurt Warner looks at Tom Brady's struggles and nods his head. The gesture is two parts understanding and one part disbelief.
Warner was barking on NFL Network about the new Brady, the Tampa Brady through five games. He sees the good, but he sees Brady's two pick-6's, uncomfortable play and the four-finger salute play in Chicago and Warner says he understands.
"We're seeing things that are uncharacteristic," Warner said on Total Access. "I'm telling you guys, when you get into a new offense, when you have to start thinking,  your not just reacting any more, you're trying to translate what's going on in this new language that you're speaking, certain things that have been accustomed to Tom Brady are going by the wayside. Because he's overthinking things, and he's trying to get comfortable but it takes time to get there."
Warner later repeated that Brady is not comfortable.
Joe sure hopes Brady gets comfortable in a hurry. Last year, Jameis Winston found himself in a new offense and a new language. He had numbers very similar to Brady through five games before nosediving in Week 6 and beyond.
The Jameis lovers don't talk about it, but Jameis had 22 touchdowns and 25 interceptions from Week 6 to the finish line last season.