Impact Return
October 25th, 2020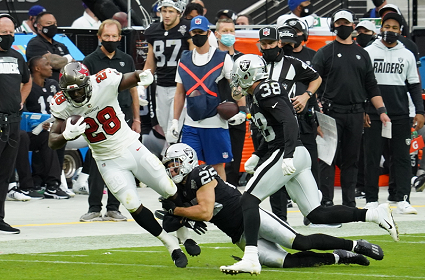 Leonard Fournette made a quite a comeback today, even registering a major hidden play of the day in the walloping of the Raiders.
It sparked Joe to have wild dreams of a two-headed Bucs rushing attack not seen since Doug Martin and Charles Sims combined for 1,931 yards on the ground in 2015.
Ronald Jones didn't have it today and, as usual, his K-Y hands showed up in the passing game.
Not a problem.
Fournette stepped into the third-down back role and caught 6-of-7 balls thrown his way for 47 yards, including a key 13-yard catch-and-finish on a 3rd-and-13 early in the fourth quarter with the Bucs leading 31-20 on their 30 yard line.
The Raiders literally never recovered.
Fournette led the Bucs with 11 carries for 50 yards. And like he often does when he gets that many carries, Fournette busted a 24-yard run. He got his touches early and made the most of them.
Strong return for Fournette after a long layoff with a bad ankle. Man, the Bucs' offensive depth is mind-blowing.