"I'm Hoping He Can Do Something By Next Thursday"
October 9th, 2020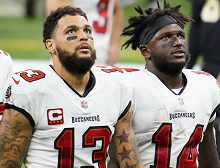 More rough news on the Buccaneers' injury front.
The extent of Chris Godwin's hamstring injury, one that has cost him the past two games, has not been clarified by the team. Of course, Joe and fans hope Godwin can return for the next game, Oct. 18 against Green Bay, but Bucco Bruce Arians said today that a Godwin return there is no given.
Joe's heart sank.
"I'm hoping he can do something by next Thursday," Arians said.
Ouch!
The Bucs certainly will be practicing on Wednesday. So this let's Joe know that Godwin's injury is that much more significant than last week's best case scenario.
Joe doesn't want the Bucs to rush Godwin, but they certainly need him.