"I Think It Was Good For The People Around Him"
October 7th, 2020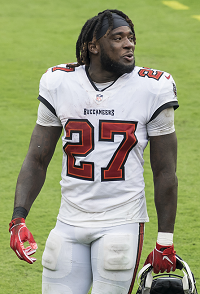 The mystery of Ronald Jones is clearing up, according to one man intimately familiar with the inner happenings of One Buc Palace.
After 13 seasons playing tight end for the Buccaneers, Dave Moore has been the team's in-game analyst on radio for just as long. Moore's been around the Bucs so long, Tom Brady's quarterback coach, Clyde Christensen, was Moore' tight ends coach in the mid-1990s.
On Monday, Moore joined Total Access, a Buccaneers production. And there he said Leonard Fournette's ankle injury was a blessing for Ronald Jones, who exploded for a career high 20 carries for 111 yards on Sunday.
"Honestly, that's the best thing for Ronald Jones that could have happened, was to be "the guy," Moore explained, noting Jones' growth from last season and that Sunday wasn't just a confidence boost for Jones.
"I think it was good for the people around him," Moore said. "We know what Fournette can do, but Ronald Jones did a lot to help himself."
Joe found Moore's choice of phrasing rather thought-provoking.
Regardless, it's a huge Thursday Night Football game tomorrow for Jones, who gets a chance to showcase himself with a massive workload before a national TV audience. Fournette and LeSean McCoy (ankle) are unlikely to play.
Jones will enter the game steaming with confidence. He could emerge as the Bucs' bellcow back — or leave a lot of people tapping their fingers waiting for Fournette to heal.