"Guys Are On Point"
October 6th, 2020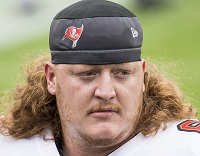 Sunday was a quite a bounce-back game for the Buccaneers' offensive line.
It was easy to forget that Tom Brady is an immobile quarterback.
While Bucco Bruce Arians raved about the line playing one of the best games he can remember in a long time, a more objective observer, former Bucs tight end Anthony Becht, served up a reason why it was happening.
Becht hopped on WDAE Radio and made a case that the rise of Tristan Wirfs is lifting the quality of play across the line.
"It increases the level of desire to be good on Donovan's side," Becht said, adding, "these guys get competitive and I think it's been a positive experience to helping the guys."
Becht likes what he sees from the "nasty tough guys in the interior" of the Bucs' line and what the Bucs have been getting lately from their tight ends.
Overall, "guys are on point," Becht said of the improved line play.
Joe was so pleased to see the push in the running game against the Chargers, and frankly, the way Wirfs and Gronkowski maul together at times on the right side is something Joe hasn't experienced in ages.
Joe can't wait to see how the surging line fares against a higher quality defense.
Fun time ahead on Thursday!!!
Bucs-Bears @BigStormBrewing in Clearwater.
Great fully covered outdoor seating, and gorgeous inside, too. Sage Ira Kaufman, @IKaufman76, will be there by 6:30 p.m. feasting & drinking a Bromosa.
Can't make it? Stock up on Florida's Best Craft beer. pic.twitter.com/kcNSTnNMj4

— JoeBucsFan (@JoeBucsFan) October 5, 2020