Curbing Penalties
October 9th, 2020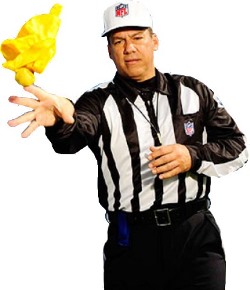 Joe saw more flags last night than at a Fourth of July party.
Yellow hankies all over the place. Almost every play. Many against the Bucs.
It got so bad Joe was doing what Uncle Ira always talks about: The Bucs make a good play and you look at the corners of your TV screen for flags.
Even Joe Buck last night said on the NFL Network broadcast, "We don't see any flags but we are conditioned to look for them." Buck thought it was ridiculous.
Joe always leans towards the angle that players can curb penalties, not so much coaches. The basic rules of the game have not changed. And the coaches are not the guys grabbing opponents when they are not supposed to. Players clearly should know better. They've been playing ball for years.
But today, Bucco Bruce Arians suggested all the flags last night fall at his desk at the end of the day. And on his staff. And he and his staff must do better.
"Just have to do a better job of coaching," Arians said. "It all falls on the staff – mistakes that we're making in ballgames that shouldn't be made, and they're not every week.

"There are games where there's a bunch of them – that was one of those games where there was a bunch of them. Penalties, technique errors [and] things that we should have coached better."
Well, technique issues, yes. Arians is right about that. But penalties? What, offensive players don't know they shouldn't hold? Carlton Davis doesn't know he shouldn't grab wide receivers with the ball in midair? Players don't know better than to jump a snap?
If that is the case, the issue isn't with coaching. It's an issue above the shoulders and that is damn hard to fix.