Chargers At Bucs, TV Map (UPDATED)
October 4th, 2020
[UPDATED: Midnight Sunday] Wanna know where you can watch the Chargers-Bucs game free tomorrow afternoon? Joe's here to help.
(The TV map is updated to reflect replacement game telecasts in areas that originally were scheduled to broadcast the Patriots-Chiefs game which was postponed Saturday.)
It seems more than just a few people are interested to see how wunderkind Chargers rookie quarterback Justin Herbert does against the Bucs defense. Roughly 70 percent of the country will be able to watch the game on their local CBS affiliate's airwaves.
Basically, if you live south of I-4 in Florida, in much of the Southeast, in New England or west of the Mississippi River, there is a very good chance you can watch the game from the comfort of your beer-stained, dog-hair-infested couch without the need for NFL Sunday Ticket. That is, provided you aren't going to drink and eat at Big Storm Brewery or plan to head out to Hooters.
CBS Sports has assigned Ian Eagle and Charles Davis to call the game. As always, TV coverage maps are courtesy of 506sports.com.
CBS Early Window [UPDATED]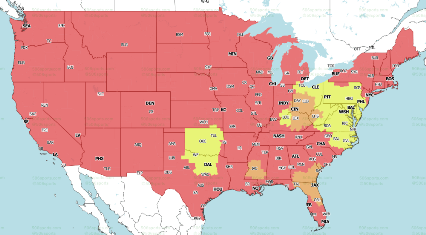 Red: LA Chargers @ Tampa Bay (UPDATED)
Green: Indianapolis @ Chicago
Yellow: Baltimore @ Washington
Orange/Brown: Jacksonville @ Cincinnati
Streaming: Fans may stream the broadcast from Buccaneers.com or on a mobile device using one of the following: Buccaneers Official app, NFL app,  CBS All Access app or Yahoo! Sports app. Geographic restrictions apply.