Cameron Brate Talks "Brutal Timing" & Brady Screaming
October 17th, 2020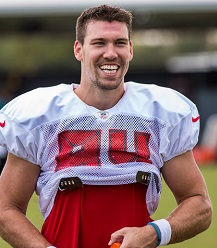 Seven-year veteran tight end Cameron Brate opened up on SiriusXM NFL Radio this week.
Of course, Joe was taking notes.
Among other things, Brate was asked about Tom Brady screaming at players on the sidelines and his impact on the team.
Joe found it interesting that Brate shared Brady explaining to teammates that he's yelling to make them Super Bowl champs.
"It's obviously benefitted us greatly having a leader like him," Brate said of Brady. "His resumé speaks for itself. … He's our unquestioned leader and he holds all of us to a high standard because, he's kind of talked about it with us; the reason he's still playing football is he wants all of us to kind of get to that level with him to be champions. And if we're not performing at the level necessary to get there, he's going to call us out on it. Last week we had two really frustrating drives where we kind of just shot ourselves in the book with penalties; we couldn't get a rhythm. It was kind of that frustration [in Brady] boiling over. It's definitely a work in progress with penalties and something that we've addressed. Hopefully this week we can improve on it, so Tom isn't yelling at us on the sidelines about penalties."
Brate went on to say Brady does a great job balancing when to get on players and when to praise them.
Joe has listened to Brate speak for years, so Joe was very intrigued to hear Brate talk about how excited Mike Evans and Chris Godwin are to be feeling better.
He emphasized that the Bears game was "brutal timing" for the Bucs' receiving corps and their injuries, and he said the extra time off has made a huge difference. Brate isn't one embellish that kind of thing, so Joe is extra hopeful today about Godwin.
As for his game, Brate said he's learned since O.J. Howard was drafted that his role would be more "game-plan dependent" versus playing regularly. So coming off the bench this season wasn't a problem, but Brate acknowledged that he was so buried in September that it wasn't easy taking a full quarter off and then coming in for a couple of snaps.
Adding humor to Brate's radio interview was a guy screaming in the background and giving Brate a hard time.
Asked who was harassing him, Brate replied, "That's Gronk."