Bucs Stub Toe Before Record Audience
October 10th, 2020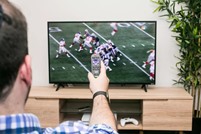 The Bucs shatting themselves Thursday night in Chicago and park-violating, home-invading, NFLPA-ignoring, down-forgetting Bucs quarterback Tom Brady having an ugly senior moment came at an awful time for the franchise.
The loss to the Bears reached a record audience, per Nielsen Media Research and FOX Sports PR.
The game, which turned into a Bucs slopfest in the second half that enabled the Bears to rally from a 13-0 deficit to win 20-19, was seen on FOX by 14.7 million pairs of eyeballs. That's the largest television audience FOX has had in primetime since the Super Bowl in February.
The game also was the most streamed Thursday night game FOX ever produced. Between the TV broadcast, the NFL Network broadcast, and fans streaming, some 15.4 million people watched the Bucs choke away the game.
Hey, as a former Bucs quarterback best known for leading the NFL in passing while wearing a garish jersey once said, "We do it big."
Thursday Night Football delivers @NFLONFOX its best primetime telecast since Super Bowl Sunday 🏆

📲 Plus, the @ChicagoBears victory over the @Buccaneers racked up the second-most streamed TNF game in @FOXSports history. pic.twitter.com/KkhLlPegOL

— FOX Sports PR (@FOXSportsPR) October 9, 2020