Bucs At Raiders, TV Map
October 24th, 2020
Wanna know where you can watch the Bucs-Raiders game tomorrow afternoon free? Joe's here to help.
(How and where to legally stream the Bucs-Raiders game will be included in Joe's early Sunday morning "Gameday Tampa Bay" feature which publishes at midnight.)
First, you certainly can have an amazing time at the Big Storm taproom in Clearwater with Ira Kaufman and fired up Bucs fans.
Basically, if you live in the Pacific time zone or in Florida, you will get to see the Bucs at the Raiders, along with a few other scattered areas including New York City, you should be able to watch the game via the free airwaves of your local FOX affiliate.
Of course, a good place to watch the game is with Ira Kaufman at Big Storm Brewery in Clearwater or plan to head out to your local Hooters.
FOX Sports has assigned Adam Amin and Mark Schlereth to call the game. As always, TV coverage maps are courtesy of 506sports.com.
 FOX Late window 4 p.m. Eastern Daylight Time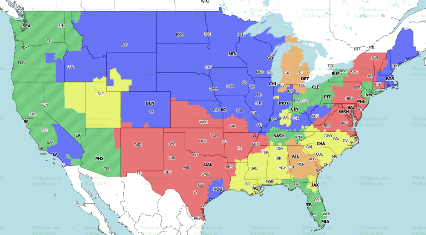 Green: Tampa Bay @ Las Vegas (LATE)
Red: Dallas @ Washington
Blue: Green Bay @ Houston
Yellow: Carolina @ New Orleans
Brown/Orange:Detroit @ Atlanta