Better Q2 Needed For Devin White
October 7th, 2020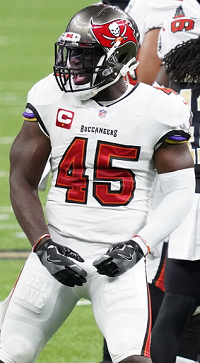 Where much is invested, much is expected. And when your team has a Super Bowl goal and mindset, those expectations get magnified.
Buccaneers savior linebacker Devin White, last year's No. 5 overall pick in the NFL Draft, is an elite run defender but he hasn't proven to be much else. Those are facts.
Through one quarter of this season, White hasn't forced a turnover and he has shown little improvement in pass coverage. Billed by Bucs officials as an elite blitzer coming out of college, Joe's not seeing that level yet.
Much has been written about how the nation will learn about Lavonte David this season because of all the Buccaneers' primetime games, including tomorrow night. The same spotlight is available for White, as it will be for Bears linebacker Roquan Smith, the No. 8 overall pick in the 2018 NFL Draft. Smith burst onto the NFL scene as a rookie, took a step back, and now appears to be in the midst of playing the way Bears fans desire.
There will be all kinds of talk about inside linebackers on the Bucs-Bears FOX/NFL Network broadcast. Joe wonders where White's play will rank tomorrow.
Joe's pulling for White to live up to his draft status. For the Bucs to take the next step on defense, they need him to make plays.