Arians Says Ryan Jensen Is A Marked Man — By Officials
October 14th, 2020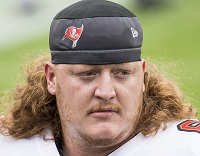 The NFL zebras might not like today's critique of their work by the Tampa Bay Buccaneers' head coach.
The Bucs lead the NFL in penalties. They had that distinction last year, as well.
Bucco Bruce Arians was asked today during a news conference with Joe and other media about whether a team can build a reputation among officials and thereby get more flags.
"I don't think a team's reputations [can lead to more penalties], but players' reputations [can]," Arians said. "I think officials come into the game with guys marked, and if it's close, they call it on them.

"I look at Demar Dotson last year; he got holding penalties that were not holding penalties because he was a marked guy. You know, so I think the same thing with Ryan Jensen. I think he's a marked guy. So with his hustle and effort – he plays to the whistle. I think people are marked. I don't know about teams."
Joe followed up to ask whether a player, from Arians' experience, can lose his mark over time.
"It probably takes a year or two (Laughs)," Arians said. "But once the officials have it in their mind they have it in their mind."
This has been a topic of discussion recently on the prestigious Ira Kaufman Podcast (next episode tomorrow afternoon). Joe has expressed concern that Carlton "Flags" Davis has built a reputation for being too handsy and Mike Evans' push-off ways aren't being tolerated this season like they have been in the past.
Hopefully, a real-live home crowd and cleaner football will cut the Bucs' flags on Sunday. (Yeah, Joe realizes the Den of Depression will be littered with Packers fans.)