Aqib Talib, Bruce Arians Agree
October 29th, 2020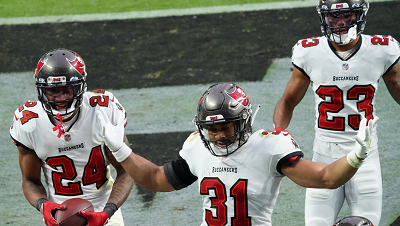 Former Bucs first-round pick Aqib Talib has 10 career pick-sixes, five Pro Bowl seasons and played in two Super Bowls. But perhaps more important, he has a new podcast.
Call To The Booth is a fun listen and, with Talib as host there's plenty of talk about defensive backs and receivers. Talib also ranks the top-5 defensive backfields in the NFL each week and this week the Bucs' No Fly Zone checks in at No. 4 overall, after ranking No. 3 following the Bucs' thrashing of Green Bay.
What a stunning turnaround it's been for Bucs corners and safeties. And it feels like it's across the board, though Sean Murphy-Bunting has struggled a bit. Last week on a Buccaneers.com film review, Rondé Barber was gushing about safety Jordan Whitehead and how he's underrated.
Bucco Bruce Arians was filled with pride for the unit last night on SiriusXM NFL Radio.
"That young secondary, they took their lumps last year, but they really, really matured the second half of the season and they're playing lights out right now," Arians said.
Tampa Bay leads the NFC with nine interceptions, and the starters are all 24 and younger and seem to take a step in their growth every few weeks.