"Work In Progress"
September 14th, 2020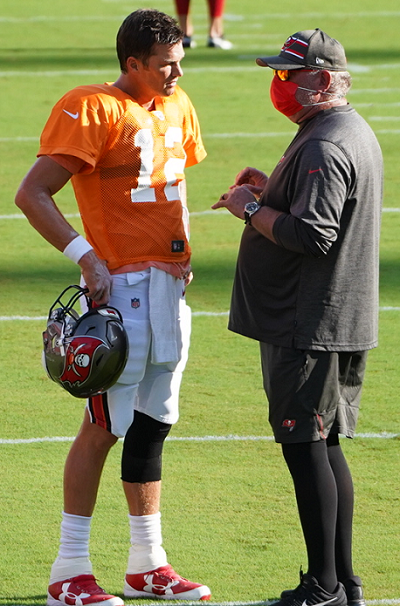 One national NFL stenographer seems to suggest he knows what is wrong with the Bucs.
Jeff Chadiha of NFL.com hints that the Bucs' franchise is such a poisoned culture, not even a coach like Bucco Bruce Arians or a legend of a quarterback like park-violating, home-invading, NFLPA-ignoring Tom Brady are immune from getting dragged down in the quicksand.
Let it be known that this will be more of a work in progress than anybody expected. Brady actually threw two interceptions on the day, while completing 23 of 36 passes for 239 yards and two touchdowns. The Bucs' defense did play fairly well — as they held the Saints to just 271 total yards — but special teams was a disaster. New Orleans blocked one field-goal attempt and also recovered a pooch kickoff when two Bucs players ran into each other while trying to field the ball.

These were the types of comical errors that were supposed to vanish with Brady's presence. The truth is that the Bucs very much resembled a young team still trying to find its own continuity after COVID-19 ravaged offseason practice time for every franchise in the league. Bucs head coach Bruce Arians had worried about special teams mistakes earlier in training camp and he got them. Brady had voiced his own concerns about miscommunication, and his first interception resulted from him and wide receiver Mike Evans misreading the Saints' coverage.

Those issues quickly altered the energy around the Bucs after Brady led them on a nine-play, 85-yard scoring drive that ended with his 2-yard touchdown run midway through the first quarter. When asked about the team's efforts after that point, Bucs tight end O.J. Howard said, "it was very disappointing" while adding that "we really beat ourselves." Bucs head coach Bruce Arians was more candid in his assessment. Said Arians: "I wouldn't say (Brady) was out of sync until we started screwing it up."
Well, the thing about being a "young team" is utter nonsense and a too-used parrotted cliche.
The youngest guys on the team were the ones that played so well: The young secondary, including rookie safety Antoine Winfield, and on offense rookie right tackle Tristan Wirfs.
Second-year receiver Scotty Miller had a better game than veteran Mike Evans.
Chadiha was at the game, per the dateline on his story. He didn't see that the young Bucs were outplaying their veteran teammates? Or did Chadiha choose to ignore that?
Joe is starting to think the Bucs have gone out game after game for so many seasons, shooting themselves in the foot (or as Arians would say, "Bucs beating Bucs"), that the players on this team expect it because playing sloppy, dumb football is so ingrained in their hearts, heads and DNA.