Weapon Or Expensive Insurance?
September 20th, 2020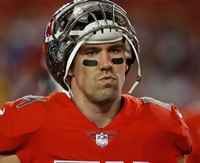 Cameron Brate logged just seven snaps on opening day and not one was on special teams.
After the game, Bucco Bruce Arians said he wants to get more work for fellow tight end O.J. Howard going forward and, of course, Rob Gronkowski played more than half the snaps Sunday and isn't about to exit the lineup.
Per OverTheCap.com, Brate's restructured contract will earn him $4.25 million this season. That represents a fantastic insurance policy for the Bucs.
What other team has a third-string tight end who doesn't play special teams and earns a fat check? Joe knows of none.
Today against Carolina, the Bucs will be without Chris Godwin (concussion) and Mike Evans' hamstring is fine but not something the Bucs want to overwork. One might think this would be a game in which Brate might get a little more work.
However, Joe is confident Brate will remain a once-in-a-while player. Blocking tight end Antony Auclair is out injured today, but keep in mind he didn't play on offense last Sunday. So it's not like Brate will get his snaps.
Brate's usage will be interesting to watch going forward. If he remains buried, then Joe expects to trade Brate before the midseason deadline.