The JoeBucsFan.Com Season Prediction
September 11th, 2020
It's an annual ritual every fan in which every Bucs fan engages on some level.
You're asked by a friend or a loved one or that guy you can't stand at work, "Whaddya think the Bucs will do this year?"
And the question must be answered. Every fan has a response and an opinion.
Joe has one, too. And it's just as valuable as yours.
Regular readers and listeners to the Ira Kaufman Podcast know Joe struggled with the state of the Buccaneers running game until LeSean McCoy was signed, and then Joe really changed course with the addition of bruising and versatile Leonard Fournette.
Those moves, combined with the health of the team and very strong training camp signs from Tristan Wirfs, Jason Pierre-Paul, Shaq Barrett and Tom Brady, have Joe firmly believing the Bucs will and should win 10 games this season. And that should be enough for a playoff berth in a year the NFL added one playoff team per conference to the postseason dance.
Joe knows most fans are smelling a greater win total. So is Ira Kaufman.
Joe gets it.
But Joe can't go there on paper on this fine September day. Despite reports, Tom Brady is still a human, one dealing with a learning curve after a butchered offseason thanks to The Sickness.
Like Brady said yesterday, we don't know what works and what doesn't yet. That could take a month.
Joe also has concerns about how offenses will adjust to Todd Bowles' defense that features five very young defensive backs in a passing league.
The Bucs' special teams were poor last year, and there's little evidence yet that the team improved in that area. So it's a question mark.
So Joe's sticking with 10 wins when it comes to a meaningless but fun prediction.
If the Bucs break their seven-year streak – seven! — of winning three games or less in the first half of the season, that could leave them with a 4-4 record at halftime of the season. And Joe believes that's a great place to gel fully and get hot with a 6-2 finish. (Heck, they were 5-3 in the second half last year.)
The would put the Bucs in the playoffs where Joe thinks there is zero limit to what the team could accomplish.
So there you have it 10-6 and a real shot at the Super Bowl.
As a side note, Joe will submit that if the Bucs can't go 10-6 with this roster, then Team Glazer needs to erect a Raheem Morris statue at One Buc Palace for what the former head coach did with a no-name roster and a minuscule payroll in 2010.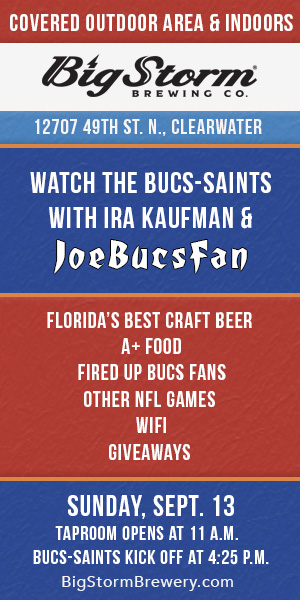 Fired up Bucs fans on Sunday with @IKaufman76 for the Bucs-Saints game.
COVERED OUTDOOR seating @BigStormBrewing Clearwater taproom. Distancing, fresh air, Brady, Shaq, Lavonte and Bucs football with Florida's best craft beer.
And of course, beer and A+ food indoors, too. pic.twitter.com/jdNRUaCrGV

— JoeBucsFan (@JoeBucsFan) September 10, 2020