Stunning Maturity
September 26th, 2020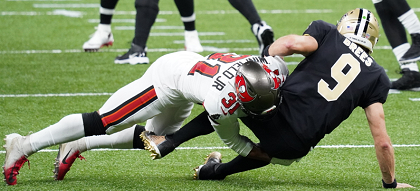 This fresh teammate take on rookie safety Antoine Winfield, Jr. got Joe's attention.
So let's get this straight, Winfield dove from college into training camp and now he's a key figure in orchestrating the defense and keeping veterans on their toes?
Fellow starting safety Jordan Whitehead explained.
"Working with Antonine back there, communication has been great. You know, he's been helping me a lot, too. Just talking and telling me like little hints before the play, talking [about] like what's the call, what we need to do," Whitehead told Salty Dogs at the Buccaneers' official website.
Whitehead stressed how Winfield's mastery and comfort level in the defense has him set up for a rise to stardom.
"You know, he puts his nose in the run game, he can cover, he can blitz. That's the ultimate safety. He can play any position on the defense," Whitehead said of Winfield. "I think he's going to be great."
Joe is damn impressed with Winfield, especially after watching the Carolina-Tampa Bay film a second time.