No Fans At First Two Buccaneers Home Games
September 2nd, 2020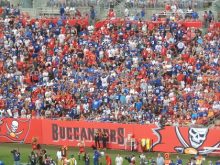 Bad news.
Some Buccaneers fans and team marketing partners received a letter today from Atul Khosla, the Buccaneers' chief corporate development and brand officer.
Here's an excerpt:
Based on our conversations, we have determined that it is not yet the right time to welcome fans back to Raymond James Stadium. As a result, the first two regular season Tampa Bay Buccaneers home games will be played without fans.  I realize this is a change from previous conversations, but as trends continue to improve, we plan to welcome back fans when we host the Green Bay Packers on October 18th.
So there it is in writing. No fans for the first two home games.
On the upside, you can watch opening day with Joe and Ira Kaufman and enjoy a great experience.