New Chapter, Old Story
September 5th, 2020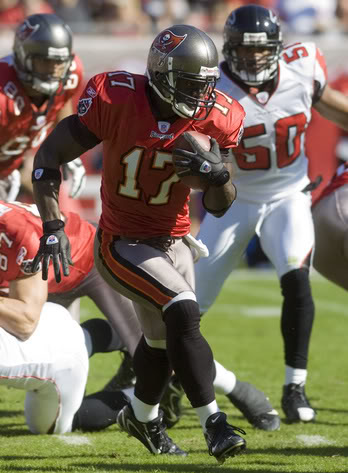 Who wants to see a list of the Buccaneers' opening day kick and punt returners of the past 10 years?
Joe's got it right here, and a look at the next guy on the list.
Once upon a time back in 2008, the Buccaneers had a rookie Pro Bowl returner named Clifton "Peanut" Smith. The dude was electric. And then his career was destroyed by a vicious blow to the head in October of 2009.
The Bucs went back to old friend Micheal Spurlock to take over the returner duties and life hasn't been quite the same since Spurlock left the building.
Here's the list of opening day Bucs returners of the last 10 years, aka The Lost Decade.
2010 Micheal Spurlock (kicks/punts)
2011 Micheal Spurlock (punts) — Sammie Stroughter (kickoff)
2012 Sammie Stroughter (punts) — Michael Smith (kickoff)
2013 Eric Page (punts) — Kevin Ogletree/Eric Page/Doug Martin (kickoff)
2014 Solomon Patton (kicks/punts)
2015 Bobby Rainey (kicks/punts)
2016 Adam Humphries (kicks/punts)
2017 Bernard Reedy (kicks/punts)
2018 Adam Humphries (kicks/punts)
2019 Bobo Wilson (punts)/ T.J. Logan (kicks)
Joe's going to stay positive this morning and just say that the Bucs have had bad luck with returners.
Back in 2015, they drafted Kaelin Clay to be a returner, but he was cut and later that season took one to the house for the Baltimore Ravens.
For 2020, it appears 26-year-old Jaydon Mickens will be the man.
Undrafted out of the University of Washington, Mickens was the Jaguars' punt returner in 2017, the season they lost a heartbreaker to the Patriots in the AFC title game. Mickens took a punt to the house that year (what's that, Bucs fans?) and he had an excellent average of 10.6 yards per return, fifth best in the NFL. His Mickens' production fell off and he was on the street most of the 2019 season before the Bucs signed him in December.
Bucco Bruce Arians says he looks good.
Is this the year the Bucs have a dangerous returner again?
Fun fact, back in 2013 LeGarrette Blount was one of the most dangerous kick returners in the NFL, 29.1 average yards per return for the Patriots. Yes, the Patriots.