"More Comfortable Throws"
September 20th, 2020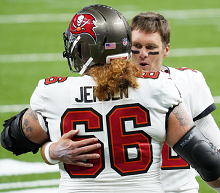 Perhaps the greatest Buccaneer in history has weighed in on keys to today's game.
No, it's not Tim Jennings or Mike Jenkins. It's a real Buccaneer legend, Mr. Derrick Brooks.
You can watch Brooks' look at today's game below. It's all on TAMPA TWO with Brooks and Ira Kaufman, the Sage JoeBucsFan.com columnist.
Brooks is adamant that the Bucs have to figure out their running game, and a big part of that is serving up "more comfortable throws" for Tom Brady, who didn't have that luxury last Sunday against the Saints. Brooks also is looking for more consistent pressure from the Bucs' four-man pass rush, among many other goodies.
Enjoy the video below. courtesy of The Identity Tampa Bay and Joe.