"Man, He's So Fast And Great"
September 23rd, 2020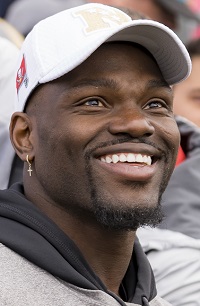 Pro Bowl sacks king linebacker Shaq Barrett, who the Bucs made a very, very wealthy man, is sackless through two games, but one former Buccaneers is incredibly impressed by what Shaq produced Sunday.
Ex-Bucs tight end Anthony Becht was breaking down the Bucs on WDAE radio
"Shaq Barrett didn't have obviously a lot going on in the sack department, but man, he's so fast and great," Becht said with emphasis. "You know he ran down a few plays on the outside, quick screens, a couple run plays as well."
Overall, Becht is impressed by the Bucs' speed on defense.
As for Shaq, Joe knows the sacks will come, but they also have to come. The Bucs defense won't be where fans expect it to be if Shaq is an eight-sack guy this year. Joe remains in disbelief the Teddy Bridgewater successfully blocked Shaq on Sunday, but Shaq is doing a lot of good things. Becht is correct.
Last year, it was the Saints and Carolina that held Shaq sackless for two games. So the trend has repeated itself. Joe expects Shaq to get on the sacks board Sunday in Denver.
---
ANOTHER FUN WATCH EVENT ON SUNDAY