"It Will Improve And It Has To Improve"
September 11th, 2020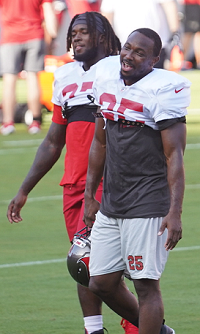 Former Bucs tight end Anthony Becht says Tom Brady is no Jameis Winston.
Calm down, Jameis haters, it's not what you think.
The Bucs ranked third in yards and third in points last season. Impressive! Bucs fans watched a lot of those plays come from extended plays, with Jameis buying time and running for his life to make things happen.
That's not going to happen with Brady, Becht emphasized to the WDAE audience today.
Becht says the Bucs offensive line is going to have to do a better job protecting than it did for Jameis, and Brady is going to need a better running game to thrive.
"It will improve and it has to improve," Becht said, expressing confidence on both fronts.

"Offensively, it's just that the cohesiveness and the mesh of the line to go now. I think they can do it. Donovan Smith? More consistency but he can do it. Tristan Wirfs? Now he'll have a few ups and down, but again, funneling everything and letting them run the hump, keep the pocket clean, don't get beat inside. That should be easy work for a kid that primarily at Iowa could do all those things at a very high level in the Big 10."
So there you have it, the Bucs need to step up to give Brady what they didn't give Jameis. And Brady will return the favor with more accuracy, better decision-making and fewer turnovers.
It's a simple formula. Hopefully.