"I Don't See This As The Last Piece Of The Puzzle"
September 7th, 2020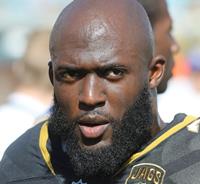 So what does the Leonard Fournette signing really mean for Tampa Bay?
A good football and family friend of Bucco Bruce Arians has a strong opinion.
Tiki Barber retired after 3,522 yards rushing over his final two NFL seasons (think about that number for a second). Arians was his childhood babysitter, as well as frequent guest on Barber's CBS Sports Radio program. Barber also spent time around the Bucs and Arians as a FOX broadcaster last year.
Speaking on CBS last week, Barber was adamant that the Fournette signing is nothing more than the Bucs playing "fantasy football" — stashing a stud running back on the bench and waiting for a problem or issue later in the season to cash in.
"He's probably not going to play for a couple of weeks," Barber said. "Leonard Fournette is a luxury. "I don't see this as the last piece of the puzzle that puts them on this Super Bowl trajectory. And the reason is really just there division."
Barber went on to laud the Saints and said Carolina will win its share of games (6?). And like many, Barber is high on Atlanta and what Todd Gurley could mean if the Falcons' defense can stay healthy.
While Barber called Fournette "a damn good player," he said he believed Arians when the head coach called Ronald Jones the Bucs' lead running back, and Barber thinks LeSean McCoy is the Bucs' best third-down back.
"I can't look at this [Fournette] signing and say it's a home run. I think it's an insurance policy," Barber said. "He's not going to be in line for heavy carries. He's not going to be the difference maker that he's being made out to be."
Barber continued, noting the Bucs secondary has many question marks and he questions whether the Bucs offensive line will be able to protect an immobile Tom Brady.
"The all-paper champion of the NFC South," Barber called the Bucs.
He didn't call a win total, but he sounded to Joe like a guy who thinks the Bucs will win nine games if the Falcons stay healthy.