Gronk Talks Blocking Uncertainty
September 10th, 2020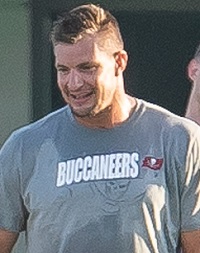 Will one of the most punishing NFL blockers of the past decade be one of the most punishing blockers of 2020?
Joe asked the guy yesterday.
His name is Rob Gronkowski, the Bucs' new all-world, big-money tight end, whose last game was the Super Bowl in February of 2019.
Joe suspects Gronk's got a great feel for his hands and route running, but blocking is tougher to gauge — until you really do it against an angry opponent.
In a response that somewhat surprised Joe, Gronk said he's not quite sure where his blocking game is.
JoeBucsFan.com: Do you feel like your elite-level blocking is back 100 percent, or is that something you just won't know until you get into a real game.

Rob Gronkowski: I definitely feel good. I feel good about it. To tell you the truth, game time has come. I mean we had no preseason games. We had live matches versus each other, but you can't really, like really scale that until I would say the games really hit. But I feel good. I feel comfortable. I feel confident about it. But we'll really see, you know, how my blocking game is and what I got when the games really come.
Gronk's blocking is definitely in the Top 10 things Joe will be looking for in Sunday's game against the Saints. Joe salivates at the thought of what this Bucs team could be with Gronk's A-game blocking alongside Tristan Wirfs and Leonard Fournette barreling downhill or Ronald Jones running wide to daylight.