Fournette Should Be Better With Bucs
September 3rd, 2020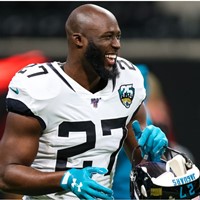 Yeah, Joe knows there are a few — very few — people grumbling about the Bucs signing Leonard Fournette. Joe doesn't understand this line of thinking at all, but hey, everyone floats his boat differently.
Some are not all that enamored with Fournette's numbers in Jacksonville. Well, he played behind pure trash on the offensive line and he was almost the only thing the Jags had offensively.
And yes, save your breath on Gardner Minshew. The Jags got rid of Fournette, in part, so they can draft Minshew's replacement.
Based on who Fournette will be playing with on the Bucs, Jenna Laine of ESPN seems to think Fournette will be better. Why? Because teams cannot load up the box on defense to shut him down.
In Jacksonville, Leonard Fournette faced a loaded box on 47.8% of his snaps in 2017, 39.1.% in 2018 and 34.7% in 2019. With an aerial attack featuring Mike Evans and Chris Godwin, the Bucs saw a loaded box on just 21.5% of snaps — third-lowest in the NFL, per NFL Next Gen.

— JennaLaineESPN (@JennaLaineESPN) September 3, 2020
And the Bucs actually improved on the offensive line with the drafting of Tristan Wirfs and the trade for foot-rubbing future Hall of Fame tight end Rob Gronkowski, a powerful blocker.
Greatest Show on Natural Turf? Makes you wonder.