Do Arians And Brady Have A "Mutual Truce?"
September 16th, 2020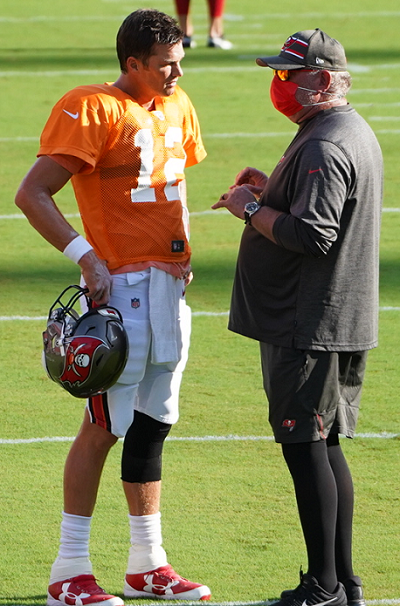 In the NFL, things rarely are as they appear.
Coaches and general managers typically play deception games with media for the sake of misleading fans for their own personal gain, or in the name of team unity or a desire to manipulate and motivate players.
Sometimes that process includes a head coach having an advance agreement to blast a player publicly to seize the attention of others.
Brett Favre said on SiriusXM NFL Radio yesterday that he hopes that's the situation with Tom Brady and Bucco Bruce Arians.
"Tom's performance was not what we've come to expect from him, but I'll say this, it wasn't far off," Farve said, assessing Brady's overall game against the Saints.
After the game, Arians threw some blame at Brady, nothing Joe thought was harsh, but many analysts found it noteworthy because public finger-wagging isn't something Brady got from Bill Belicheat, coach of the undefeated Patriots.
"Getting to Bruce Arians' comments, true or not, I think the last person you want to call out after the first game of the year is Tom Brady," Favre said." "Now, maybe they had a mutual truce going into the game, going into the season, 'Hey, I'm going to be hard on you. I want the guys to know we're going to treat you the same even though technically I'm not, so are you OK with it?' If they have that truce, great. If not, I think you are barking up the wrong tree."
Favre went on to say scolding Brady publicly without that "truce" could lead to "dissension" quickly on the Bucs roster.
Frankly, Joe doesn't think Brady is soft; he's not the guy who's going to have a problem with Arians calling things straight after Week 1. Joe thinks the whole thing is a tad overblown. After all, many of these same critics said two weeks ago that Brady is the greatest leader in the history of NFL.
Favre continued and used the popular wacky-preseason excuse for Brady looking off his game Sunday.
"Yeah, we saw, we heard where he was getting some kind of workout in, whether it be virtual or in the parking lot. But, look, it's not even close to the equivalent of real bullets," Favre said. And they protected OK. Tom, you know, if you protect him he's gonna pick you apart. I don't care if it is new receivers or not. And it just wasn't typical protection. I'm not blaming the line; I'm not blaming Tom Brady."