Buccaneers 31, Panthers 17
September 20th, 2020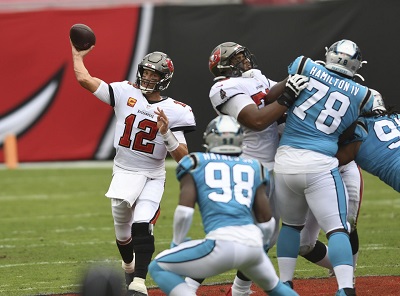 DEE-fence!
DEE-fence!
Today's win started beautifully, and then it got ugly, and then it got scary, and then came the fantastically soothing "W."
The Bucs didn't help anxiety-riddled fans with their play today. For some reason, Tampa Bay disappeared from late in the second quarter until early in the fourth. But that works fine when you jump out to a 21-0 lead.
Tom Brady improved against the Stinkin' Panthers, despite touchdown-throw drops from LeSean McCoy and Scotty Miller. And Cyril Grayson's drop could have been a TD, as well, given all the room he had in front of him.
The Bucs defense forced four turnovers, and that was the difference in the game. Interceptions by Carlton Davis and Jordan Whitehead were the kind of opportunities they would not have squeezed last season. So Joe was extra encouraged by those picks.
Mike Evans? Take a bow.
Leonard Fournette? What a breakout in the fourth quarter!
Rob Gronkowski? Maybe next week.
Donovan Smith? Thanks for gutting through an injury and playing better this week.
Devin White? That hustle on Christian McCaffrey's second touchdown caused McCaffrey's injury. That won't show up in the box score but Joe sure appreciated it!
Shaq Barrett? Don't let a quarterback block you again!.
Stick with Joe for much more on the Bucs' big win in the home opener.