Believe It
September 28th, 2020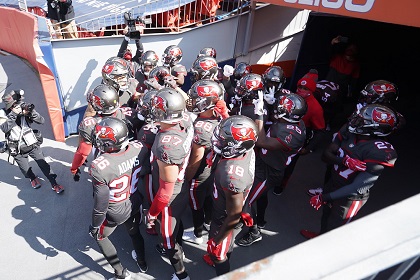 NFL fans have a sick obsession with the comparison game.
This was never more evident 10 years ago when hater Bucs fans, still bitter that Chucky was fired in favor of Raheem Morris, bellowed that the 10-win, 2010 Bucs team was a fraud.
"They didn't have a signature win. Who did they beat?" these fans screamed. "The Saints quit in the season finale after three quarters, so that didn't count."
It was an embarrassment, and Joe sometimes thinks the football gods punished Bucs fans for their lack of appreciation, and then blessed Tampa Bay with what became The Lost Decade.
The 2010 club was something to be admired, with 10 rookies making starts and a young offense coming together. But even when the 2011 Bucs opened 4-2 with wins against strong Saints and Falcons teams, too many Bucs fans were still calling the 2010 club a phony sham.
Regardless, Joe knows lots of fans cannot avoid the comparison game, meaning trying to figure out how good a team is based on final scores and who its opponents played previously. It's a fun exercise, but one that's especially foolish in September.
The 2020 Bucs have only beaten a dreadful and impotent Broncos team by three scores, as well as a punchless Carolina club that lost its best player in the midst of a second-half comeback in Tampa, and the Bucs fell to a 1-2 Saints team whose defense was shredded whenever it didn't play Tampa Bay.
Reading that last paragraph, one could conclude that this Bucs team is an enigma and fans might want to wait before boasting and making playoff plans. But Joe advises weak-hearted Bucs fans to stop clinging to fear and embrace what's obvious.
Joe and fellow fans can see that this Bucs team is dangerous on defense with an offense that can score 30 points on any team at any time. And the special teams look much improved. It's a different team in 2020, and it doesn't matter that Bucs opponents are a combined 2-7 this season.
Up next is a bad and beatable Chargers team. Joe can call them bad not because of their record, but because Joe watched their three games.
Joe felt compelled to write this because there are too many Bucs fans in disbelief today by the Bucs sitting alone in first place with a 2-1 record. They're there because they deserve it. So go with it for a change.
Put The Lost Decade baggage down for a week.