8 Off-The-Radar Things To Watch In Denver
September 27th, 2020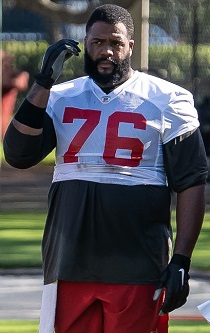 In no particular order:
*Chris Godwin typically is a very active blocker in the Bucs' run game, including taking on defensive linemen and linebackers. Will the Bucs limit Godwin in that area following missing a game with a concussion?
That could lead to running more out of four-wide sets.
*Vita Vea had his snaps cut to 56 percent last Sunday for no apparent reason. Is it because of his hand that was covered in a club until late in training camp? If it's conditioning, then Joe surely expects a similar snap total in the altitude and lots of work for Rakeem Nunez-Roches.
*Bucs fans were told that Tom Brady's leadership was off the charts and would affect the entire roster. Ok, then why did the team collectively disappear after jumping out to a 21-point lead last Sunday? Joe is looking to see Brady lead the team to a complete-game effort.
*In 2019, Shaq Barrett was held sackless in just four games, twice to New Orleans and once to Carolina. Those teams were the Bucs' last two opponents. Shaq has been active and playing pretty well, but he can't go through this year as an 8-sack guy with two forced fumbles and call it a successful season. The bar was set too high. Today's a day for Shaq to eat.
*Like Shaq, Devin White has played well, elite against the run and decent in coverage. Joe is so glad he's patrolling the middle with Lavonte David. But the No. 5 overall pick has much greater goals and the Bucs have higher expectations. Get to the quarterback today, Devin, or be a part of your first turnover of the season.
*Let's make it 2-for-2 on good games, Donovan Smith. Otherwise a long day – and a long week – is ahead.
*Receiver Scotty Miller should get a lot of action today with Justin Watson out with a shoulder injury. But Miller is nursing a new hip and groin issue. Bucco Bruce Arians has talked a lot about it being critical that Brady has lifted Miller's confidence. So Joe hopes Miller doesn't show a loss of confidence after dropping a touchdown last Sunday and ending up injured. The Bucs need the new Scotty Miller, not the guy in the first half of last season.
*Ryan Succop has had just one field goal attempt this season beyond 38 yards. It was blocked, courtesy of Alex Cappa. Joe hopes to become a true Succop believer today if he makes one from 45-plus.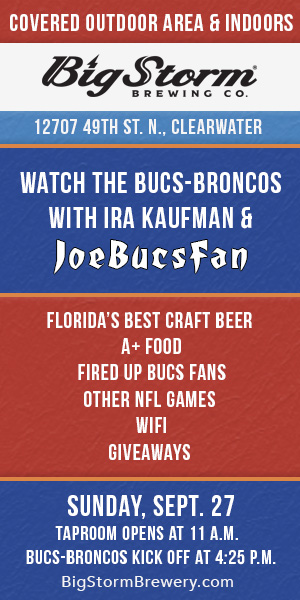 ---
TAMPA TWO with Derrick Brooks and Ira Kaufman delivers Episode 2 of this week with a look at the Bucs-Broncos game.
Brooks always has Sage wisdom to share (that's right, Brooks). All the fun is presented by The Identity Tampa Bay and Joe.