Vita Vea Talks About Overthrowing The Saints
August 25th, 2020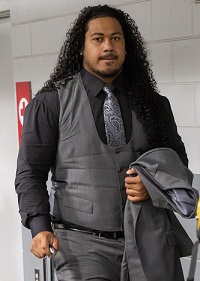 This afternoon, Joe asked Vita Vea about playing more than two-thirds of the snaps this season; that was his total last season.
Vea didn't want to talk about that, but he was interested in answering Joe's question about the opening day opponent.
The Bucs got manhandled twice by the Saints last season. New Orleans even ran the ball on Tampa Bay, which was just about impossible for every other NFL team.
Vea said overthrowing New Orleans, starting on opening day, is about becoming precise, fundamentals-focused football players.
"I think we just gotta hone in on our technique, you know, since we've been here what three weeks? We didn't have any OTAs, we didn't have a real camp or a preseason. I think everybody has to hone in on their techniques since we're trying to make up for lost time," Vea said.

"I think just, you know, studying the film, watching yourself and being your own worst critic about that, focused on your technique. I think that's the biggest emphasis for us right now."
Technique has been a huge focus for the defensive line this summer. Rookie DT Khalil Davis talked about that over the weekend, as have others.
A lot of folks are quick to say the Bucs might have the best front-7 in the NFL. Perhaps they do, but it's clear they all know that a new level of detail, precision and execution is what will really get them to the top of the league.