"This Is Going To Be One Of Those MVP-Type Seasons For Tom Brady"
August 24th, 2020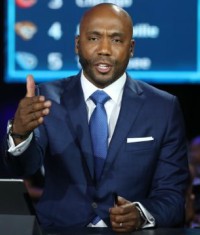 A couple of tough critics slammed their foot on the gas while driving the Buccaneers hype train the other day.
Former personnel executive and NFL safety Louis Riddick, one of the new voices of Monday Night Football, is as direct and no-nonsense as it gets in the mainstream media, and he was barking on ESPN about Tom Brady having a 4,000-yard, 30-touchdown season this year, completing nearly 70 percent of his passes and well over a 100 passer rating, which would mean very few turnovers.
Opinionated Ryan Clark, the retired Giants, Redskins and Steelers safety, did not play the contrarian role that ESPN always seems to have on their analysis shows.
"This is going to be one of those MVP-type seasons for Tom Brady," Clark barked, as ex-Jets QB Mark Sanchez talked about how Brady's infectious addiction to winning will rub off enough to help the Bucs.
Clark went on to talk about how the addition of Rob Gronkowski is about Brady wanting a player "that understands stepping up in big moments," and he believes Gronk will fill that role beautifully with defenses sending plenty of attention elsewhere on the Bucs offense.
Joe's all fired up for the season, too. Heck, Jameis Winston won nine games in a season, and Josh Freeman notched 10 wins with 10 rookies making starts and Stylez White as the featured pass rusher. Brady and a crew of young and old studs should be successful.
Should be.