Stop The Lean On Gronk Talk!
August 13th, 2020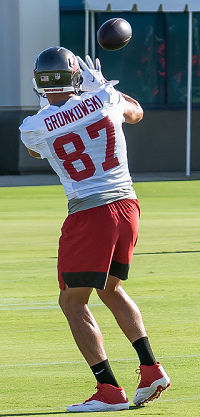 Nothing quite like a deeply passionate rant from a former Buccaneer.
"Tom Brady is not playing football to throw it to his buddies," former Tampa Bay tight end Anthony Becht barked on WDAE radio this week.
The college football analyst and ex-Buccaneers Radio Network voice still lives locally and he rejected the popular chatter that Brady will lean on Gronk and possibly force it to him until he gets familiar with his other weapons.
No, no, no, said Becht, Brady will let the defense dictate and his operation will be all about the best options on any given play.
"I don't see Tom Brady in any effect leaning on somebody or Tom Brady going away from somebody because of the fact that, you know, he's looking for a security blanket or familiarity," Becht said. "He's going out there to throw to the target that's open. And that's what I like; I don't want anything forced.

"If you gotta hit Gronkowski for no reason other than because he's your guy, to me that doesn't make sense. And I think that's the one thing that will separate Tom Brady from Jameis [Winston] and the differences we'll see. He's going to find the target that's open, and more than not when that guy catches the ball, he's going to have some space to run. That's what's exciting about what you're going to see of this offense."
Joe agrees wholeheartedly!
"Maybe red-zone specific stuff" is where Brady might give Gronk a preference, Becht maintained, though it sure wouldn't be the norm.
Heck, the whole reason Brady likely wanted to come here is because of all the weapons at his disposal and no longer needing to force balls like he had to in New England at times. So no, Joe rushing to draft Gronk in daily fantasy leagues.