Simms: Mike Evans Is Super Elite; Chris Godwin Should Probably Pay Him
August 10th, 2020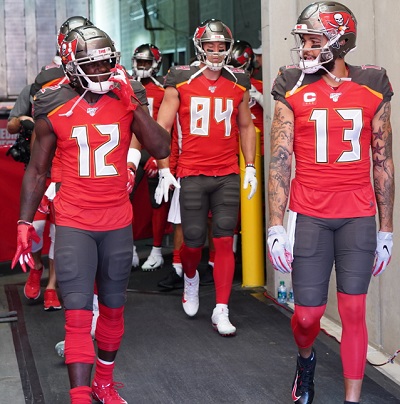 How good is Mike Evans?
How good is Chris Godwin?
Former Bucs QB Chris Simms served up very strong opinions.
Simms took to his NBC Sports platform recently to rank the top-10 receivers in the NFL, devoting well over one hour to explaining his picks.
Godwin, per Simms, isn't a top-10 guy and really isn't in the conversation.
Receivers outside Simms' top 10 are close to that elite group, but Simms didn't have Godwin at the top of that second tier. Instead he named breakout Panthers receiver D.J. Moore and four-time Pro Bowler T.Y. Hilton, along with Davante Adams, DeVante Parker and Adam Thielen. And Simms placed 2019 Seattle rookie D.K. Metcalf, in that second tier, as well, calling him the next Mike Evans.
Simply stated, Simms is convinced that Evans is so damn good that he's made life easy for Godwin, who operates primarily in the slot.
"Chris Godwin can probably give him part of his paycheck," Simms said.
Evans was awarded the No. 4 NFL receiver ranking from Simms, and Simms believes the added Bucs television exposure this season will have most of the country asking, "Man, is Mike Evans the greatest receiver in football?"
"He is an absolute defensive game plan changer," Simms said of Evans, explaining that Evans has rarely had the benefit of running easy-catch routes because he's so disruptive and effective playing on the outside.
Tom Brady will soon realize Evans is a Rob Gronkowski type at wide receiver, said Simms, who is a former Patriots assistant coach, and "I think [Brady's] going to have a love affair with Mike Evans."
Joe thinks Simms was a bit harsh on Godwin, but the cold reality is that Godwin never has had to prove himself consistently as a No. 1 receiver who draws the best cornerbacks and must play outside.
Until Godwin does, it'll be hard for him to get the kind of consistent love from analysts that he likely deserves.