Saints Cancel Fans For Opening Day
August 12th, 2020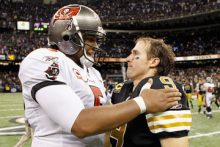 It looks like Bucs fans might have to join Joe at the Big Storm Brewing Co. taproom in Clearwater if they want a festive atmosphere for opening day on Sept. 13.
The New Orleans Saints announced tonight that they have canceled fans for their much-awaited clash with the Bucs in the FOX afternoon prime time slot at 4:25 p.m.
Joe is sad for the many Bucs fans who planned to make the trip, but Joe's happy for the Saints losing a piece of their vaunted home field advantage. Joe's also happy that Jameis Winston won't have to hear a bunch of Bucs fans scream at him that he sucks, along with other assorted insults.
In an official report on their website, the Saints cited "the health and safety of our fans, our employees, the Mercedes-Benz Superdome staff and all of the coaches and players," as the over-riding factor pulling the fan plug on opening day.
Bring on the fake crowd noise and, hopefully, lots of mic'd up players and coaches.