Ronald Jones Describes Brady's Steady Guidance
August 10th, 2020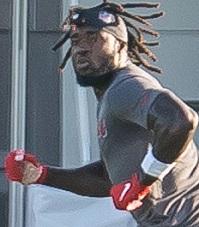 The Goat is grooming Ronald Jones.
The Buccaneers' third-year running back spoke this afternoon to Joe and other media online.
Joe asked RoJo to name one real specific thing that he's learned from Brady, and RoJo didn't hesitate.
"Get low in my routes and run my routes like I already have the ball," he replied.
Later, a very wise-sounding RoJo said that the most important thing he can do between now and opening day is "getting chemistry with the O-line and Tom Brady … timing and steps down, things like that [with no preseason game.]" Joe thought that was a very mature-sounding answer rather than some sort of get-in-my-playbook take or "stay healthy."
RoJo also noted that he lost a colleague and a friend when Peyton Barber moved on to the Redskins, but he let Bucs fans know that Ke'Shawn Vaughn is an "explosive guy, a fast kid," and he seemed excited by the rookie.